ABOUT PERFORMANCE

THE RED WHEEL / THEATRE SERIES
Theatre of Nations

Age suitability: 18+
Venue: New Space Theatre of Nations
Address: Strastnoy boulevard, 12/22

On 13 and 14 October The Red Wheel Laboratory will show its work in the New Space of the Theatre of Nations. A group of directors and playwrights have prepared five sketch plays based on the epic novel The Red Wheel by Aleksandr Solzhenitsyn. The Red Wheel is part of a large-scale project of the Theatre of Nations Utopias and Tragedies, in which artists reflect on the 100th anniversary of the Russian revolution.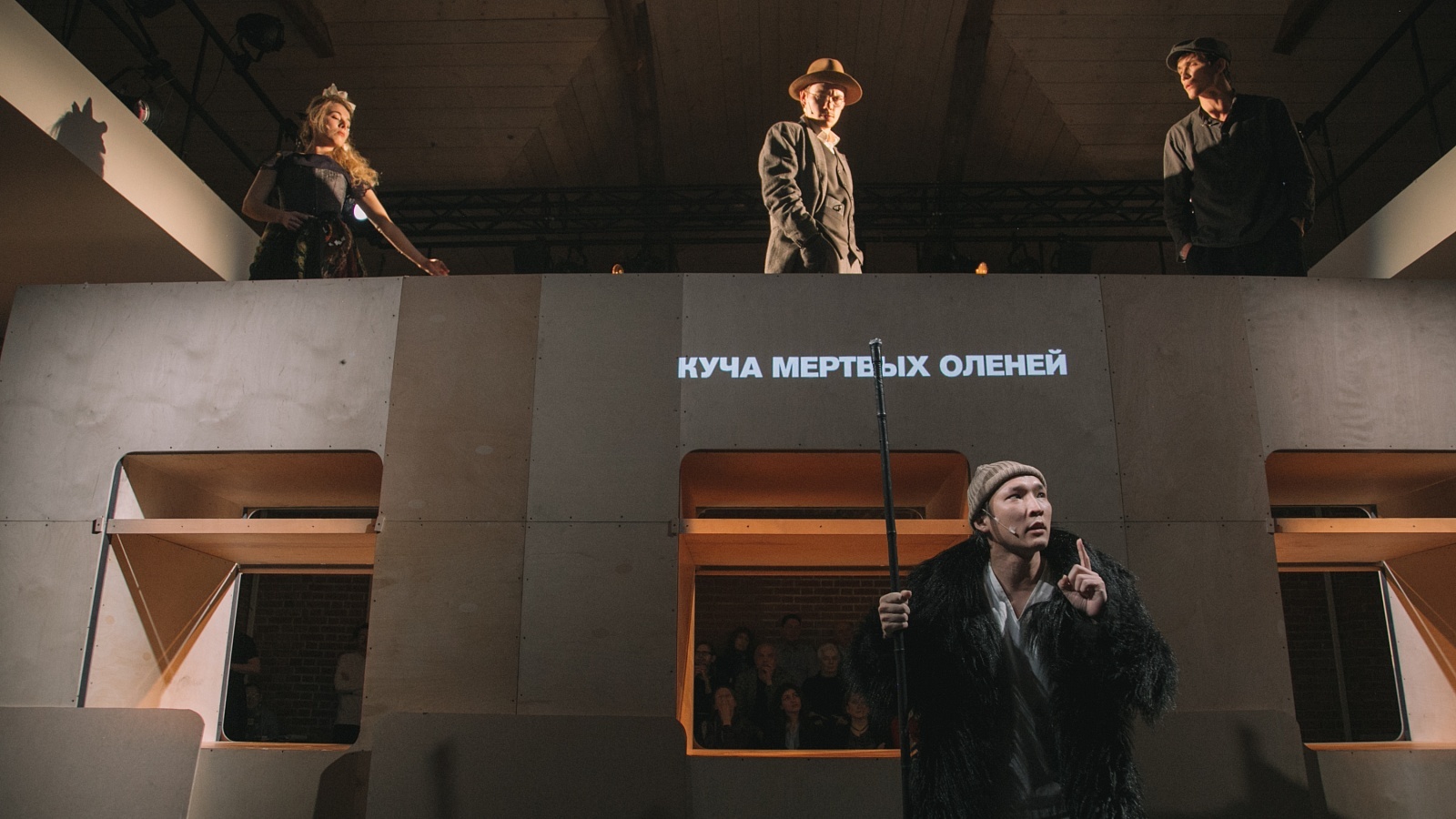 "The idea of this laboratory belongs to Yevgeny Mironov and Roman Dolzhansky, this is part of the creative programme of the Theatre of Nations dedicated to the 100th anniversary of the Russian revolution. There is no need to explain why the name of Alexandr Solzhenitsyn has appeared in such a programme, all the more so as next year marks the 100th anniversary of the birth of the great Russian writer. I was offered to take up the laboratory and think over possible material. Having plunged into the creative legacy of the writer, I quickly found the answer that surprised my colleagues – this should be The Red Wheel! The epic novel, over which Solzhenitsyn worked all his life and which covers the most important events of both the years preceding the revolution, and, in particular, the revolutionary events of 1917.

This is a great novel, which is known to everyone, but which, in truth, have been read by few people from the beginning to the end. Therefore, all of us consider it very important not only to think out an interesting theatre project, but also to attract the audience's attention both to this complex, voluminous, but incredibly fascinating work and to the entire creative legacy of Alexandr Isayevich. We are infinitely grateful to Natalia Dmitrievna Solzhenitsyna: not only did she allow us to work upon The Red Wheel, but she gave us important advice and blessed us not to deal with "literature theatre", but fantasize, be inspired by the novel, search for new methods of theatre expression, experiment with modern genres…

That is why we decided to make a "theatre series" – the very structure of the novel has prompted us this idea. We offered each "episode" to differed creative pairs consisting of a director and a playwright. What was also important is that our directors and playwrights come from various cities, not only Russian ones. So, the audience will eventually see five completely different views on Solzhenitsyn's novel.

It is equally important to remind viewers that the format of a theater laboratory does not imply the creation of a complete performance. On the contrary, it implies unexpected solutions, which are not always possible to implement when creating a full-fledged theatrical product. Speed, sleepless nights, sudden insights – this is what we call a theatre laboratory. To sum up, read good books and go to live modern theatre!"

Telgat Batalov, Curator of The Wheel Laboratory

13 October, 14 October, 1 p.m.
Na "Dne"

This episode is dedicated to the abdication of Emperor Nicolas II – it is commonly known that this key event in the country's history took place in a car of the czar's train at the station of Dno not far from Pskov (the word "dno" in Russian means "bottom", "the lower depth"). But as we know now, the distance to the real "dno" of the Russian Empire was still large on that day… (The name of the episode refers simultaneously to the world famous Gorky's play The Lower Depth (in Russian – Na Dne) and to the station where the action takes place – at the Dno station or, in Russian, na Dne).

13 October, 14 October, 4 p.m.
The Cell

Sketch Show
The performance consists of several episodes, or sketches – this is a sort of a series inside a series. It is dedicated to Bolsheviks, or, more accurately, to one of the Bolshevik "cells" scatted in Saint Petersburg blazing in revolutionary fire. A viewer sees, as in a sort of a kaleidoscope, representatives of various layers of society, who could only have been gathered in one place by a national catastrophe… Worker Gvozdev, revolutionary theorist Rozenbom, sorceress Agrafena, Even Kholchokho, Grand Prince Mikhail and other characters appear on the stage. These are dissociated confused people who created their own history, while hardly understanding the essence of revolutionary processes…

13 October, 14 October, 8 p.m.
Polonceau Car

Farce in one act

A new type of railroad cars appeared in the late 19th century – a Polonceau car. It was ordered by and received its name from the Vladikavkaz Railroad, distinguished by its advanced technology. Later on, such cars were also produced for the Chinese Eastern and Warsaw-Vienna railroads. A limited edition of cars was produced for the members of the Imperial Family… The action of the play takes place in a train car, in which Vladimir Ilyich Lenin (Yevgeny Mironov) accompanied by his wife Nadezhda Krupskaya (Yegenia Dmitrieva) and mother-in-law Elizaveta Vasilyevna (Lyudmila Troshina) is going from Galicia to Zurich. But he will fail to leave the car: three years of wandering, reflection and disputes are shown in a single, endless movement of the train across Europe…


TEAM
Idea of the project — Evgeny Mironov, Roman Dolzhansky
Curator of the project — Talgat Batalov
Set design — Olga Nikitina
Set designer assistant — Ekaterina Zlaya

"Polonceau Car"
Play by Dmitriy Bogoslavsky

Director — Talgat Batalov
Video artist — Dmitry Sobolev
Composer — Ramazan Yusupov

"Cell"
Play by Mikhail Bashkirov

Director — Ygor Matveyev
Video artist — Denis Sazonov
Composer — Alexey Skovorinsky

"Na Dne"
Play by Polina Borodina

Director — Artem Teryokhin
Animation — Anna Gantimurova
Actors
Cast / "Polonceau Car" — Evgeniy Mironov, Evgeniya Dmitrieva, Lyudmila Troshina , Vladimir Kalisanov.
Chorus / "Polonceau Car" — Tatyana Zbrueva, Daria Beloded, Larisa Kokoeva, Ilya Orshansy, Sergey Kulikov, Inga Leps, Andrey Zlobin, Andrey Vishnyakov
Cast / "Cell" — Vasily Molodtsov, Roman Evdokimov, Lilia Gaisina, Gian Badmaev, Andrei Mikhalev, Dmitry Gladyshev
Cast / "Na Dne" — Elena Nesterova, Kristina Isaykina, Alexey Kalinin, Proshin Alexander, Moskovoy Nikita, Zlobin Andrey, Vyacheshnikov Andrey, Kulikov Sergey, Dedov Alexander, Kolbin Roman, Beloded Darya, Antipova Olga, Melnikova Anastasiya, Belyakovich Nikita